Dunkin Donuts Sandwich Bags
see related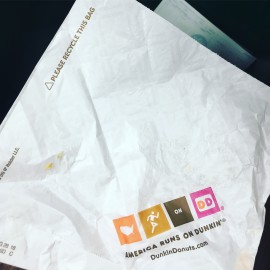 Recycle in Your Bin or Cart:
As long as it is free of food residue and unwaxed. If these items are heavily soiled or coated to be waterproof, please dispose of them in your regular trash.
This item follows the basic rule for fiber recycling in your bin/cart (it's paper, cardboard, or a carton). Paper and cardboard must be flat. Cartons must be empty at a minimum, but rinsed whenever possible. Plastic caps (on cartons) can go back onto their plastic spouts.